I live in Japan. I have bank accounts in Japan to get a monthly income and make regular payments. Besides, I have bank accounts in the United States and Hong Kong to put some of my money into different banks in different places with different currencies to minimize the risk. I manage my assets in these countries because there are more options for investment than in Japan.
A consideration is how to transfer the money you get in Japan to a foreign bank account. Wire transfer at a banking institute in Japan costs very much. I tried some online international money transfer services. All of these services require no less than 2,000 JPY of fee per transaction, so sending tens of thousand Yen with these services is costly.
Having two Paypal accounts can resolve this problem. I got two Paypal accounts with my different email addresses and linked one of the Paypal accounts to a debit card of the bank account in Japan and the other to the bank account in the US. When money was credited to the Japan bank account, I logged in to the Paypal account linked to the debit card and sent money with the debit card to the Paypal account linked to the US bank account. Then I logged out and logged in to the other Paypal account, and I withdrew money credited to the account to the US bank account linked to the Paypal account. The fee is cheaper as long as you send a small amount of money. However, you cannot send money from Japan to Hong Kong because if you live in Japan, your Paypal account does not allow you to link to any bank accounts in Hong Kong.
Revolut
Revolut resolves all of the problems. Revolut is a multi-currency banking service launched in the United Kingdom in 2015, and the service for residents in Japan became available this year. If you live in Japan, you can apply for a Revolut account via its smartphone app with your email address, credit/debit cards (AMEX is not supported, though), and your My Number Card. Once you open the account, you can top up money with one of the credit/debit cards used for the registration. The topped-up cash is credited to the account in Japanese Yen, and this cash is exchangeable to more than 150 currencies, including United States Dollar and Hong Kong Dollar. By registering bank accounts, you can withdraw (or pay) the money to one of the bank accounts. You can withdraw USD currency to US banks, and HKD to Hong Kong banks. That is, you can send Japanese Yen to US banks and Hong Kong banks in each currency used in the country the bank belongs to, with an exchange fee only. You can send money to someone else's bank account as well.
Physical and virtual cards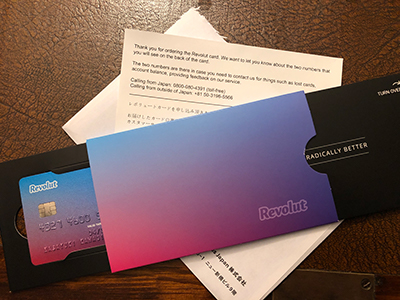 Another characteristic of Revolut is its physical VISA debit card you can have issued and sent to your residential address for free (a fee may be charged depending on card face type). The plastic card looks almost the same as a credit card and is usable like a credit card for the payment of up to the amount you credited to the account. Unlike other debit cards issued in Japan, this card is embossed, so it is usable with an analog credit card imprinter. Of course, the card has an IC chip so that you can use the card with the four-digit PIN you registered in advance, without signing manually on a credit card slip.
A virtual card is also available for online use. If you find your physical or virtual card fraudulently used, you can deactivate it via the app at any time.
Cons
Unfortunately, Revolut has some drawbacks. If you are a resident of Japan, you cannot send cash to Japan's banks, and you cannot top-up in foreign currencies from foreign banks. It means that you can only send money from Japanese banks to foreign banks, not vice versa. You cannot register the physical or virtual cards to Apple Pay.
Conclusion
Despite these drawbacks, Revolut is one of the successful cases of fintech and is the best solution for international money transfer and prepaid card service. I'm going to use it for the time being, and I'll give feedback on this blog later.