According to Wikipedia, "Yurie Omi (born July 27, 1988) is a Japanese female announcer, television reporter, television personality, and news anchor for NHK. Omi is one of the hosts of NHK morning news show NHK News Ohayō Nippon. She is also the co-host of NHK television series Bura Tamori aired from April 2016."
I've been a big fan of Yurie Omi since the beginning of this year when I sat in front of the TV by chance at my parents' house and watched her for the first time in Bura Tamori (I had rarely seen it before, though). This program is a travel show where NHK's broadcaster strolls Japan's particular town or area with Tamori, one of Japan's renowned TV personalities, and a geophysicist, a local historian, or a curator, to investigate the place's topics such as terrain features, history, culture, and civil engineering.
Why do I think she is so attractive? I think the reason is three-fold. Firstly, she sometimes shows goofy behavior in her TV programs, although she is actually very smart and good-looking. She wore her dress back to front in the news show. In Bura Tamori, she read the thermometer incorrectly. (She said the temperature of hot spring water was 940 degrees Celcius while it really pointed 94.0 degrees.) Such slight weaknesses mean imperfection, which is what Japanese people value in tradition. This mentality makes the Japanese regard her weaknesses as charming. Secondly, she acts or speaks less highhandedly than average so-called "joshi-ana" and TV personalities. They often show off, but she doesn't. They often speak aggressively, but she never does it. Her attitude like this gives a favorable impression to many Japanese viewers. Thirdly, most of her personality looks so similar to mine that I find something congenial in her. I don't think she is such a personality that is good at thinking on her feet and speaking off the cuff with a ready wit. Rather, she looks genuine, and she can only do diligently what she has to do with simple honesty. Such characteristics are just like mine.
For those reasons, I got fascinated by her. I watch every TV program she appears in. I get up at five in the morning on weekdays to watch NHK's morning news show she hosts. In Saturday evening I watch Bura Tamori to see her traveling with Tamori.
In addition to watching her on TV, I had a chance to see her with the naked eye. One day I got the information that she was going to hold a lecture presentation at Nagoya on September 30 and was requesting for audience. I applied for it because it might be my once-in-a-lifetime chance to meet her up.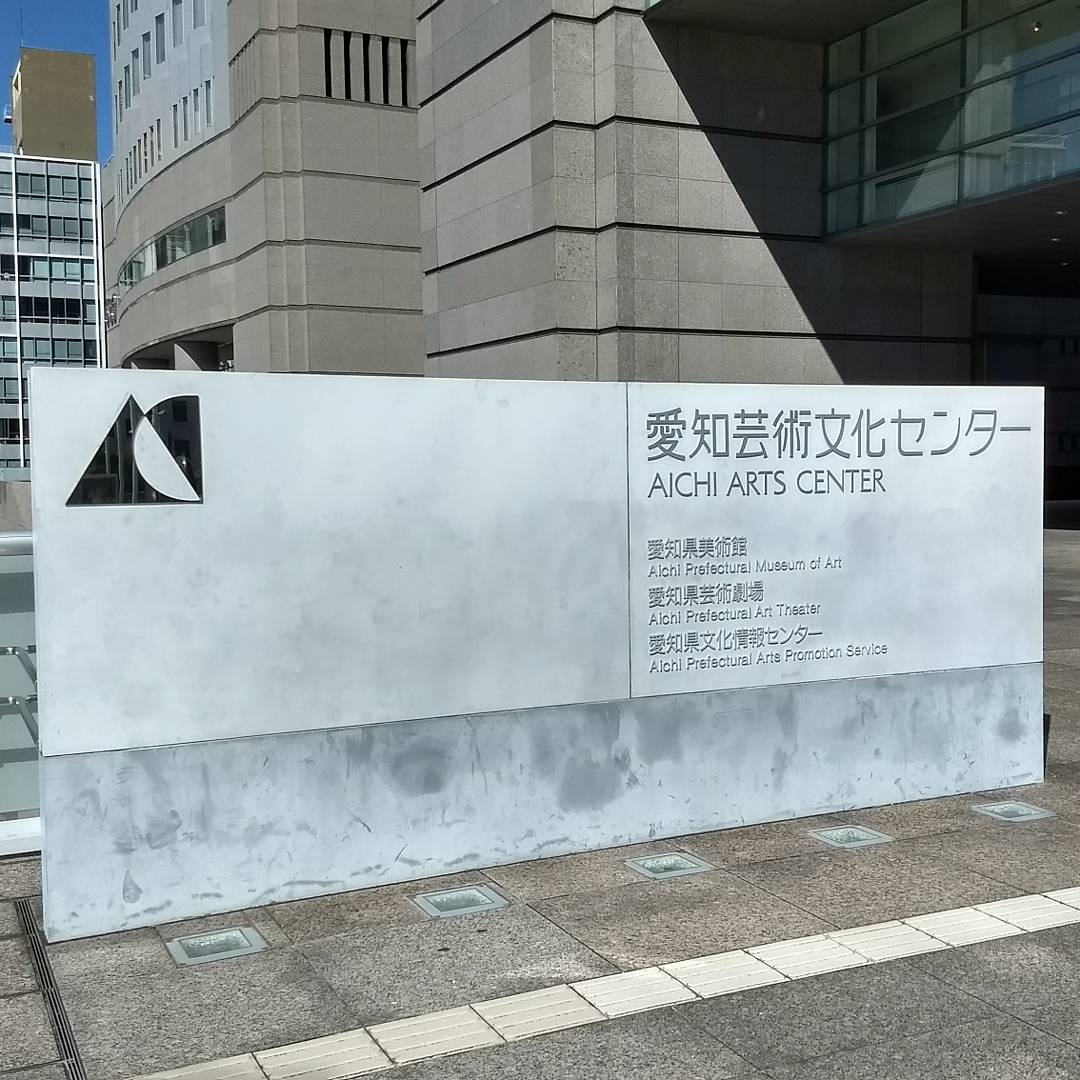 The venue of the lecture presentation was a large conference room on the 12th floor of Aichi Arts Center, located just in the center of the city of Nagoya. It had 280 seats, almost all of which were occupied. A host stood on the front stage several minutes before Yurie Omi came in, and gave some instructions. He told us that taking pictures and recording were no longer allowed once she appeared.
She entered the room at 3:00 pm. She had long hair to shoulder, which wasn't tied up. She was in a blue-patterned white one-piece dress.
Standing on the front stage, she started her self introduction to begin with. She said that she had started her broadcasting career at NHK in 2012 and then she had been sent to NHK Kumamoto Branch as a trainee.
"My boss said I was doing a great job," she said, "and trainers told me to do my best to be a news anchor hosting a prime time show or a morning show in the future."
It is when she was a high school student that she got to wish to become an NHK broadcaster. She said that one of the reasons was because she was longing for a job of researching something and telling it to people at her own responsibility. In her childhood, she was involved in the child reporter activity at a newspaper company. She researched some topics, interviewed people, and wrote articles to be published in the newspaper. She said that this experience strongly encouraged her to get involved in journalism.
"I was a shy girl when I was a little child," she said."I wasn't a good public speaker. I couldn't even state my brief self-introduction. I could only speak in a very thin voice in front of people.
"When I went to junior high, I happened to join the broadcasting club since I didn't find any other attractive clubs. Through this club, I found out that, though making a speech in public was still not fun, I learned that making best efforts could get things better."
One more reason to attract her to NHK was her love of NHK's programs. Project X was one of her favorite programs. She said, "I think Project X is a highly impressive program with finding out what kind of people have supported our country and how it has been developing.
"You might think many programs NHK makes are quiet and modest, but I believe it's such a broadcasting station that tells something resonating with the mind. Dreaming that I could be the one that makes such programs, I joined NHK."
Because she was trained as a newscaster when she was a rookie, she had no chance to get involved in variety shows until April 2016, when she was appointed to a co-host of Bura Tamori.
"I don't know the truth about why I was chosen, but I think it would be because I was a one-time host of a travel program when I was in Kumamoto, and the producer of Bura Tamori took notice of me starring that program," she said.
After she took over this program from Maho Kuwako, it became one of the highest viewership programs. Yurie Omi's name has been well-known for one year and a half. She talked about the following lessons she had learned through her 1.5-year hosting experience of Bura Tamori:
Be honest with your first impressions. It is important to express honestly what you feel when you touch a rock or when you first see a town.
Ask anything. Ignorance is not a shame. Pretending to know really is.
Don't understand things immediately. Ask one more question to the specialist, and you'll get more detailed information.
Don't be a facilitator. Let viewers feel relaxed and feel as if they were traveling together with you.
Laugh loudly only when you think it really funny.
Then she added what she learned about life from Tamori:
Don't imitate others and try to perform like them. You are not Maho Kuwako. Be what you are.
Edges are everything. Old castles, temples, and shrines are built on the edge of the plateau. Towns are developed alongside the edge of a fault.
The Earth has a 4.6-billion-year history. Our worries are trivial for the Earth's history.
Noodles should be flexible; so are men.
Have an interest in various things; it will help enrich your work and private life.
You can find something interesting within arm's reach.
In the question and answer session at the end of the presentation, I raised my hand. Called on by the host, I asked her, "Omi-san, I know you are hosting two programs in different categories, news, and variety. Could you please tell us what line of career you think you are going to choose in the future?" She then answered with a little embarrassment, "My boss often asks me like this, but I can't figure out right now what career line will suit me. Viewers or leaders of production will probably decide such a thing. All I can do is to work hard in both of what I got chances. And then, I want to take it easy and try various fields since I'll probably have a long life as a broadcaster."
I left Nagoya with the satisfaction of being able to talk directly to her. She looked modest, but I believe that she is in fact a woman of great willpower considerate to staff members and stakeholders, working very hard in everything she has to do, and making the best efforts to make her programs even a little better. I have an intuitive feeling that I will see her being the main anchor on NHK News 7 in five years or so. As a fan, what I can do for her would be to tell her how much I support her, and how much I'm standing with her.